If you have molluscum, you have likely spent time searching the Internet for ways to get rid of it. There are various therapies to resolve molluscum, including topical application of medications, radiation therapy and surgery. Each of these has differing results.
These are the top 5 remedies for molluscum contagiosum:
Cryotherapy. For most physicians, this method is their first line of defense. With this procedure, the lesions are "frozen" off using liquid nitrogen. The advantage to this remedy is that it happens quickly. Unfortunately, this treatment can cause scarring or lighter/darker skin in the treated area. Because of the discomfort and potential for mild scarring or discoloration, cryotherapy is ideal for those with just a few lesions or those with larger molluscum that are unresponsive to other treatments.
Currettage. This remedy uses a curette (a rounded surgical instrument) to remove the lesions. The curette is placed over the lesion while pressure is applied to extract the bump from the skin. Often painful because of the pressure put on the bumps, it is not a cure recommended for children. There is also the potential for scarring at the extraction site.
Laser surgery. With this treatment, a pulsed dye laser is used to target each individual molluscum lesion. Laser therapy is an expensive option and not all doctors have the necessary equipment available in their office to offer this option to their patients. This treatment does not stop the bumps from spreading and multiple office visits are needed to get rid of the lesions.
Cantharidin, also known as beetle juice. This is a topical medicine that comes from a type of beetle and is applied in the doctor's office. Application of Cantharidin is typically painless, but is still an acid. A few days after the application of beetle juice, blisters form over the molluscum and lift them away. The blistering of the bumps can be painful for some. Another problem with using cantharidin is that smaller lesions can appear around the lesions that were treated.
Over the counter drugs. There are many treatments for molluscum found on the shelves of the drugstore. Each product varies in ingredient/dosage/etc. and claim to get rid of molluscum.
Our product, MolluscumRx is an over the counter drug because you do not need a prescription to purchase it. The ingredient list is short and contains only organic plant materials such as myrrh and calendula.  When using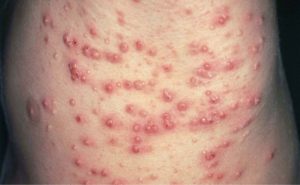 MolluscumRx, you can be assured that there will be no scarring from the lesions. Unlike other over the counter drugs for molluscum, our product contains no acids or burning agents and will not harm healthy skin. Best of all, application is completely pain-free. When using MolluscumRx, results are typically seen within 5 to 7 days and full results within 4 weeks. In almost all cases, our product prevents reoccurance of molluscum contagiosum.